Sweepstakes casinos offer a unique gaming experience that can be tricky for new players to understand. Our guide gives you all the information you need to play safely and make the most of top sweepstakes and social casinos.
In a nutshell, because the games themselves don't use real money, they aren't classed as gambling. But sweeps cash and social casinos do offer players the chance to win cash prizes without having to place a real money bet. This is because they use "Sweeps Coins" – a type of virtual currency which can only be won in free games or given as part of a welcome bonus or promotion.
What are sweepstakes?
Historically, "sweepstakes" referred to contests in which a prize (or prizes) went to a winner picked at random. The best example of this were the Publishers Clearing House sweepstakes. These saw big prizes delivered to people on their doorsteps.
With online sweepstakes casinos, things are a little different. Visitors can play slots, keno, poker, and other table games, using Gold Coins or Sweeps Coins – more on these below ­– instead of staking their own cash.
Our Sweepstakes Casinos Review Process
You'll also find a section dedicated to sweepstakes and social casinos among our huge collection of casinos and sports betting sites. Here is where we test drive the newest and already popular sweeps casinos. These platforms are completely different from regular online casinos and are hugely popular.
Number of Sweeps Games
Many of these sites offer a large collection of games to players, and we examine the variety, whether this is mostly slots, table games or skill-based games. Our experts test-drive the games for quality and comment on how well these perform. We also consider the range of software providers and whether games can be played with sweeps or virtual currency.
Free Sweeps Coins Bonus
Playing for free is a huge plus point for sweepstake fans, so we check to see if this is possible on each site we review. We also check how easy it is to play for free and collect sweeps and what the purchasing player will receive in terms of free sweeps.
Quality of the Games
Any sweepstake casino worth its weight in gold will offer good quality games for its players. We create accounts so that we can test these games as well as seek out player reviews on which to base our ratings. It's also important for us to check the mobile capability of sweepstake games.
Overall Design of the Site
You'll find that we offer our thoughts on the theme and overall feel of all the sweepstake casinos we review. We'll pass comments on whether a site is welcoming and user-friendly, along with our thoughts on the layout and ease of use.
A Closer Look at Our Best Sweeps Cash Casinos
Let's take a closer look at our top recommended sweepstakes casinos:
Wow Vegas
Wow Vegas is a new kid on the block and was only established in 2022. This sweepstakes casino offers more than 300 casino games, and daily log-in bonuses and already has a great reputation.
If you are after a new sweepstakes casino with a modern design and excellent user experience then Wow Vegas could be what you're after. Sign up for a new account today and claim 5,000 Wow Coins and 1 sweeps coin.
Fortune Coins
This site is owned and operated by Social Gaming LLC. There are all sorts of slot games to play, plus a few table games thrown in for good measure.
When you register a new account, you will receive 140,000 free gold coins plus 50 free Fortune Coins (the site's brand sweeps coins). It plays perfectly on both mobile and desktop!
Pulsz
Pulsz brands itself as a 'free play social casino' and it has established a reputation as being one of the most highly regarded sweepstakes casinos.
In total it offers more than 300 different sweepstakes games and casino games that you can play on both desktop and mobile. Most of the games are slots, but they have a variety of alternative casino games such as blackjack, roulette and Texas Hold'em Poker.What's more, you even get 5,000 gold free coins when you register for a new account.
BetRivers.net
This is a company that knows a thing or two about real money casinos and this is evident when you sign up and play. Head over to their special social and play free sweepstakes casino slots and table games – over 2,000 in total available.
If you are looking for a varied and exciting way to play, then sign up and start earning 1,000 virtual currency every day.
Gambino Slots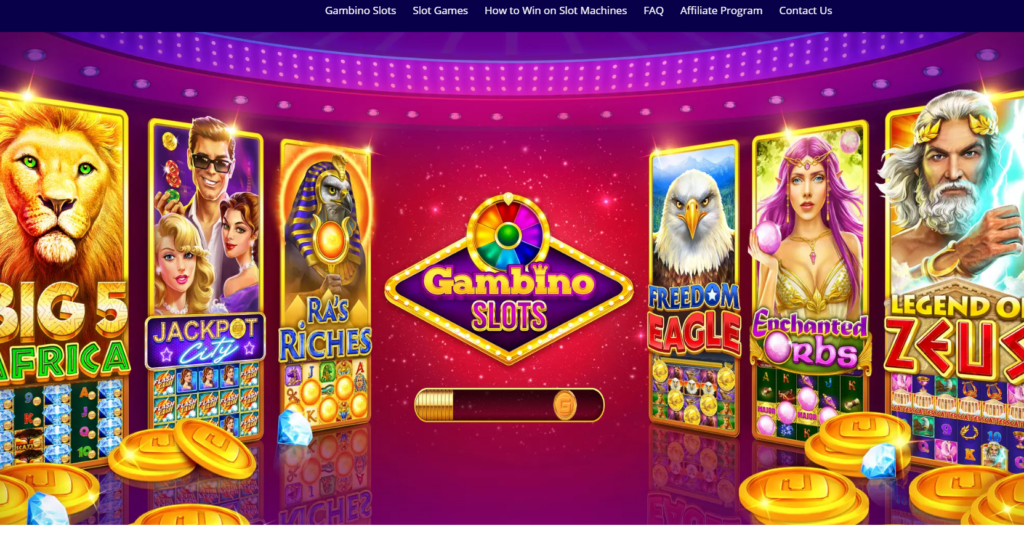 Another excellent sweepstakes casino is Gambino, which offers hundreds of slot games and table games to play for free. There are also excellent features such as the Daily Bonus Wheel, where you can earn even more free coins.
Sign up as a new member and enjoy 200 free spins plus 100,000 gold coins.
How sweepstakes gambling works – nail your experience
So you have your free coins ready to go, and your eyes are already set on some gold coins. How can you ensure you enjoy the best sweepstakes casino experience possible? Sweepstake games are the same as other casino games in that practice makes perfect. And doing a bit of homework before you kick off always helps. Here we'll share some of our top tips about how to play at free sweeps cash casinos and how to win social casino games.
Register your account
Signing up with a social casino is super easy. Because you're not directly playing for real money, many casinos will let you link your Facebook or Google profile, and you can start playing immediately. No fuss, no muss, no filling in of a million forms and no divulging of personal information. Of course, for a real money cashout, you will then need to provide proof of identity.
Check which currencies your social casino uses
Most social and sweepstake casinos use one of two models. Some will keep it light and fun using only virtual currencies, like Betrivers.net Casino For Fun. Others offer the possibility of online sweepstakes casino real money wins, like Hard Rock Social Casino. These will also offer other coins (sometimes called sweeps coins) that can be converted into real cash.
Use your virtual currency to practice without losing money
It might be tempting to start using your real currency immediately but have some patience. Practice your hand with the endless supply of free coins that's on tap, and only start risking your hard-earned real currency when you've got the lay of the land.
Visit the social media pages for free coins
Most sweepstake casinos give out their free coins like it's 1999, and the world's about to go crazy. Facebook pages tend to have free coin giveaways a couple of times a day at least, as do the actual casino sites. Others will let you spin a wheel regularly to replenish your horde of free coins.
Team up with friends
Teamplay is one of the fun aspects of playing at sweepstakes casinos. Even better, teaming up with friends increases your chance to win cash, as you are pooling resources and luck. An added bonus is that you're socializing and having fun with like-minded people. Win-win, indeed.
Check out the site for all bonus offers
Social casinos are renowned for the sheer number of online casino bonuses, promo codes, and giveaways they will have on any given day. You certainly don't want to miss out on any of them because the number of free coins on offer is usually insane. And guess what. Free coins equal more spins and more opportunities to play, hopefully resulting in more wins.
Request virtual currency by snail mail
Yep, you read that right. Check out the terms and conditions of your chosen sweepstakes casino and you'll discover that many of them offer this option. You can actually request as many as you like, and they'll be added automatically to your account. It's a neat trick that few bother to follow up on because as we all know sending snail mail is mighty annoying. But hey, if it leads to a mountain of free coins, we're not complaining.
Always read the rules
Take the time to go over the minute T&Cs of every sweepstake you enter. These contests typically come with several conditions, and it's very annoying to realise only too late that you've lost your chances of winning simply because you omitted some tiny step. You'd be surprised at how many players forget to do this part, so make sure you're not messing up your win before it even happens.
Social casino games – popular types
You can expect to find the most popular casino games at our highest-ranked sweepstake gambling sites. The top casino software providers like NetEnt, Everi, Pragmatic Play, Greentube Games, and the like are represented by their most popular titles, which are now part of the social casino landscape. This is good news, especially for players where online casinos for real money still need to be legalized.
From your favorite slots to video poker, jackpots, and table games, there is no limit to the social casino games that you'll find available at sweeps cash casinos.
According to a study by research company, the most popular social casino games are online slot games, poker (yes, sweeps poker is also available), and casino table games. Here are some of the games most popular with players:
Sweepstake casino slots
Video poker
Jackpots
Fireball Keno Sweepstakes Slot
The first of the biggest Sweepstakes slots we'd recommend is Fireball Keno. If you have any doubts about the "sweepiness" of the game, no worries, because it was made by the famous Riversweeps Platinum—a name that every Sweepstake lover knows and admires. Why do casino players around the globe love it? The reasons for its popularity are the prime numbers and enticing prizes, the likes of which you have never seen before.
If you are an avid sweepstakes player, you will know how important numbers are for the game, which is why there is a whole range of them in Fireball Keno. The range of the numbers goes from 1 to 80, and the lowest number you can choose is 2. All in all, it is a game that every Sweepstake lover would become a fan of if they just gave it a try.
Mobile Version: Yes
Min. Spin: 0.60c
Our Rate: 8/10
Mardi Gras Money Sweepstakes Slot
Do you love Mardi Gras? If so, you will cuckoo over this Mardi Gras Money game. True to its name, the game offers numerous fun bonuses and prizes!
If we talk about the paylines, a total of 50 of them are featured in this game, and there are even mystery stacks and symbols that you can explore for exciting bonuses. Players love this game, and we must say it's one of the best free-play slots we have ever seen due to the unknown surprises and mysterious prizes that can be won. The feeling of not knowing what the rewards consist of adds an absolute thrill to the game.
Mobile Version: Yes
Min. Spin: 0.30c
Our Rate: 6/10
Tiki Island Sweepstakes Slot
We will now delve into the exciting game of Tiki Island. As fun as the name is, the game is full of life, and players never feel bored playing it. Why is that?
Tiki Island allows you to interact with people around the world. It is the perfect game for those who wish to talk to people from other regions and compete against them for the best deal. The game offers international sweeps like never before. The reward for each sweepstake can be won by anyone regardless of where they are playing.
Mobile Version: Yes
Min. Spin: 0.10c
Our Rate: 9/10
Wolf Reels Sweepstakes Slot
Wolf Reels is a game that we feel we must talk about. The name attracts a lot of players as there is something nocturnal and mysterious about it. If you have a taste for adventure, Wolf Reels is your type of game. With big prizes at the end and exciting adventures throughout, it is one game that will keep you engaged for hours! For players that look for the game to be authentic enough, Wolf Reels has all sorts of special effects audio that accompany every part of the game.
If you are concerned about the prizes, Wolf Reels will surprise you because of its considerate stakes, and you can have fun with the game's unique layout. Wolf Reels will keep you hooked with its massive prizes and many chances for entries, so give it a whirl!
Mobile Version: Yes
Min. Spin: 0.20c
Our Rate: 6/10
Bilyonaire Sweepstakes Slot
Bilyonaire is a game with not just a peculiar name but end prizes that are so huge that any player can become a billionaire! It is a game with classic features and a timeless look. Even if luck is not with you and you do not become a billionaire via this game, you can win many big online Sweepstakes cash prizes that will certainly get you somewhere. Any player that has tried this game has made it permanent in their collection of Sweepstakes games.
The only thing we will recommend is that you first read the manual for the game to familiarize yourself with the rules and regulations, as this will help you play it right and increase your chances of winning big rewards!
Mobile Version: Yes
Min. Spin: 0.50c
Our Rate: 7/10
Wolf Moon Sweepstakes Slot
Is anybody up for another Sweepstake game related to wolves? We can never get enough of wolves due to their allure of mystery and danger. This game's name is Wolf Moon, yet another online sweepstake.
The fun thing about this game is that you do not necessarily need to stick to a wolf—the game is full of wild animals. All you need to do is follow one of the animals of your choice, and it will lead you to a prize. Each animal leads to a different prize, making the game exciting because all players love variety and change. Do not worry too much about the game's name; you will not need to wait for a full moon to claim your prizes!
Mobile Version: Yes
Min. Spin: 0.20c
Our Rate: 6/10
Rich Life Sweepstakes Slot
The game's name refers to the chance for players to win a fabulous grand prize. Entry into this game is not difficult at all. An enticing point of Rich Life is that you are not alone in playing the game. You will be playing alongside other players who, just like you, will be looking for a chance to win big prizes.
Mobile Version: Yes
Min. Spin: 0.40c
Our Rate: 7/10
Great Rhino Megaways
If you like Megaways games, then this 2015 slot from Big Time Gaming is worth a look. Although there are now lots of different games that use the Megaways mechanism (including sweepstakes games), this is one of the best. It offers fun gameplay and over 200,000 different winning ways.
High Volatility
Maximum Win: 20 million gold coins
Min/Max Bets: 50 to 1 million gold coins
Buffalo: Hold and Win
This game offers the fun Hold and Win feature which is a fan favorite amongst fruit machine and video poker game players. It gives you the added advantage of holding set symbols as you respin the reels for even more chance of winning – added to the rest of the Buffalo Hold and Win game, and you get a great experience.
High Volatility
Maximum Win: 90 million gold coins
Min/Max Bets: 50 to 75,000 gold coins
Caishen Wealth
Head over to Pulz to find this a medium volatility slot game that offers no less than four different jackpots. The Asian themed slot game offers a variety of features to help you win, including the Hold and Boost.
Medium-high volatility
Maximum Win: 30,798,000 gold coins
Min/Max Bets: 25 to 6,000 gold coins
Egyptian Dreams
We all love Egyptian-themed games and they are some of the most popular out there. This offering is a highly volatile game that offers great graphics, fun features and a huge maximum win up for grabs.
High volatility
Maximum Win: 7,500,000,000 gold coins
Min.Max Bets: 50 to 1 million gold coins
The Best Games at Sweeps Casinos
Online Sweepstakes casinos welcome new players all the time – and there are many reasons why a player might choose a new casino. It might be the choice of bonuses and promotions… but more often than not, it's the selection of games available to play.
Here are some of our favorite games you will find at online sweepstakes casinos.
Space Miners
This game is a cool online slot game that is played over 6 reels and is filled with all sorts of symbols which can trigger bonus features such as re-spins, power ups and free spins – it also offers up to an incredible 1 million ways to win!
Theme: Outer Space – an Intergalactic space mining project.
How to Win: Land 3 UFO scatters to trigger the free spins. Three rows expand to 10 rows – and up to 1 million ways to win.
Volatility: Highly volatile
RTP: 96.47%
Bonus Features: Re-spins, power-ups, free spins
Maximum Win: 50,000x your stake
Fire Blaze Blue Wizard
This classic 5-reel 3 row online slot game is a huge hit with players. Not only are there 30 paylines, but there is also a profitable re-spins bonus feature and four different jackpot prizes up for grabs.
Theme: Wizard and magic graphics
How to Win: Land 3 castle scatters to trigger the free spins round and look for the jackpot star symbols. There is also a Blue Wizard wild symbol and a Crystal Ball bonus symbol.
Volatility: Highly volatile
RTP: 96.03%
Bonus Features: Re-spin feature and four progressive jackpots
Vicky Ventura
This game is a very Lara Croft style game that offers adventure and action – and anywhere between 243 and 16, 807 ways to win. There are unlockable reels, a free spins bonus round and a maximum win of 10,000x your stake.
Theme: Ancient ruins adventure game – like Indiana Jones
How to Win: Land crystal symbols to trigger the totems and transform symbols. Try for extra wilds and unlock the extra reels. If you land 3 scatters you can get 10 free spins, unlock 4 added reels and activate 16,807 ways to win.
Volatility: Highly volatile
RTP: 96.16%
Bonus features: Free spins, unlockable reels
Max Win: 10,000 x your bet
How to Get Sweepstake Coins for Free
One of the largest social casinos, Chumba Casino, awards its players 2 Sweep Coins to open an account and participate in a social media tournament via Facebook. New players will often receive sweeps coins as a free bonus when new players purchase gold coins. The amount of sweeps coins they receive is usually determined by how many gold coins are purchased.
Gold and sweeps coins can be used to play any casino game at the social casino. If a player wins using sweeps coins, those sweeps coins can be redeemed for cash prizes.
There is always a chance of winning free sweeps coins if you just become a little social. Some social casinos put up the easiest questions on their social media platforms, and participants have a requirement to answer them. For example, to benefit from the Chumba Casino no purchase bonus, you must participate in a competition/giveaway on social media. Other free sweeps cash casinos might have a different cash prize number and number of winners that they pick, so do your research to find the best deals and prize packages.
The other standard option for getting free Sweeps Coins of different kinds is to mail the casino yourself and ask for Sweeps Coins. You can send them a mail following their instructions to redeem your coins. Make sure your handwriting is perfectly legible, or else they will not know where to send the sweeps coins.
Other operators offer different bonus types. For example, BetRivers.net has a welcome offer consisting of free virtual credits awarded every four hours and a daily free spin of the bonus wheel. As part of the "Spin the Wheel" promotion, you get one spin per day, revealing how many free virtual credits you'll receive.
How safe are sweepstakes and social casinos?
Sweepstakes and social casinos are just as safe as playing at any real money casino. While you aren't paying as you play with sweeps games, you still need to register and buy Gold Coins. You will also have to share financial information with a site or app to claim any prizes you might win.
Before you start playing, you'll want to ensure your chosen site is safe and legitimate. We've reviewed some of the biggest sweepstake brands available so you can play with confidence. To help you choose a site where you feel safe, we've listed them below.
Why are sweepstake and social casinos popular?
Sweepstakes and social casinos are popular because they let people play casino games in places where gambling is restricted.
Social casinos are, as you can imagine, casinos where having fun is the goal. You don't need to spend any money to play, and you don't win real money prizes. Sweepstakes casinos differ from social casinos though, because they do give you the chance to win real money as you enjoy free sweeps games. Using Sweeps Coins, players can play for prizes in sweepstake games in most states.
Social casinos only use Gold Coins or an equivalent, not Sweeps Coins, so don't give players the chance to win real money or prizes.
What are Gold Coins and Sweeps Coins?
There are two different types of coins available for use at most sweepstakes casinos: Gold Coins and Sweeps Coins. Understanding the difference between the two is key to playing online sweepstakes.
Gold Coins – These are usually awarded on signing up and you can buy more at social casinos. These are used to play games for fun.
Sweeps Coins – These can only be collected as a free reward or bonus and can be redeemed for cash prizes.
Downloading a Sweepstakes Casino
At the moment, most sweepstakes online casinos can only be played through your web browser – but are still accessible on both desktop and mobile. Many people prefer to play this way anyway rather than downloading an app.
Most online social and sweepstakes casinos are browser-based only. That means you can access them with your phone or tablet. You just need to do it through the website via your mobile browser.
However, LuckyLand slots has created a dedicated Android mobile app for its players. To download, simply head over to their website and click on the .apk file to start the download and installation process. You will need to make sure that you have allowed installs from unknown sources in your settings. Then simply follow the prompt as directed.
Do Sweeps Casinos Really Pay Cash Prizes?
Absolutely yes, they do! If you win a certain amount of sweeps coins, then you can swap them out for real cash prizes. When you request the redemption, the money will be paid out into the eWallet or bank account that you used to buy Gold Coins with. If that can't be done, then you can choose an alternative way to claim. Some sites also give you the option to redeem your coins for gift cards which will be sent to the email address registered to your account.
Most sites require you to have a minimum of 50 sweeps before you can redeem and you can only make one redemption a day. Once submitted, the casino will put them in the queue for processing and complete it a soon as possible. However, it can take as many as 10 days to receive your money.
How To Earn Free Sweeps Coins
As we said previously, the main reason this isn't considered gambling is because you can't buy sweeps coins. You need to earn them for free – but how? Well, there are a few ways:
You can get free coins as a bonus when you purchase a gold coins package.
You can play contests on social media sites
Claim free sweeps coins on registration
Sme give away sweeps coins as a daily log-in reward
Mail a request to the sweepstakes casino.
The Advantages and Disadvantages of Sweep Casinos
Here are the main pro and cons of playing at a sweeps casino site:
Pros
Easy to register and play on both desktop and mobile;
You can win real cash prizes without spending any money;
Available to players that can't legally access traditional real money online casinos;
Many offer an excellent selection of slots and games.
Cons
Unavailable to players in Washington State
Doesn't offer big wins and is not suitable for high-roller players.
Conclusion
There is a very big difference between a sweepstakes casino and a traditional online casino. You can't simply register with a sweepstakes casino, deposit your money and start playing on your favorite games for real money wins. To play on a sweepstakes casino, you need to get gold coins, try and earn free sweeps coins however you can and then build up enough free sweeps coins wins to be able to redeem for cash prizes.
You may not win anywhere near the amounts you can at a real online casino, but the best sweepstakes casinos will allow you to withdraw some pretty decent wins that you won't even need to pay out cash prizes for. You can even play them in states where real money online casinos are banned.
So check out our top sites, start playing our trip sweepstakes games and see what it's all about for yourself.
FAQ
Are online sweeps and social casinos safe?
Yes. Sweepstake and social casinos are safe, legal, and regulated. As you'll need to share payment information with them it's important to only play at trusted sites such as those we've recommended.
Can you play sweepstakes with real money?
Effectively, no. What we mean by this is that you can't deposit money and immediately gamble with it. Instead, you must rely on acquiring free Sweeps Coins as you play. This can be done when you're awarded free bonuses when you purchase some Gold Coin offers, or via social competitions where it is given away.
What are Gold Coins?
Gold Coins differ from Sweeps Coins in that they can only be used to play games for free, and you also have the option of purchasing them. Gold Coins have no monetary or other value – they simply let you play the casino-style games for fun.
What are Sweeps Coins?
Sweeps Coins allow you to play sweepstake games for your chance to win cash prizes or gift cards. You can earn them during play, or they are sometimes included in welcome bonuses with Gold Coins. No purchase is necessary to obtain Sweeps Coins.
Can you win cash playing sweepstakes?
Yes! Although it involves jumping through a few hoops to get the Sweeps Coins needed to play for real money.
How old do I need to be to play at sweepstake casinos?
The lowest legal age limit for playing sweepstakes is 18. Some states may have a higher age limit, so you should double-check this before playing.
Are there different types of sweepstake games?
Yes. Slots, casino games, poker and more are all available as sweepstake games. The best sweepstakes casinos usually have a variety of game types on offer.
Can you play sweepstake games on your mobile?
Yes. Sweepstakes and social casino games are often played on smartphones and tablets. Some have dedicated apps to make playing on mobile devices quick and easy.